First, the cartoons.
[Update: Hat tip to erinyes — ya gotta see the FKN Newz Roundup.]
The scandal preview is provided by Marisa Taylor and Kevin G. Hall of McClatchy Newspapers, who write:
Top Commerce and Treasury Departments officials appeared with Republican candidates and doled out millions in federal money in battleground congressional districts and states after receiving White House political briefings detailing GOP election strategy.

Political appointees in the Treasury Department received at least 10 political briefings from July 2001 to August 2006, officials familiar with the meetings said. Their counterparts at the Commerce Department received at least four briefings — all in the election years of 2002, 2004 and 2006.
If these political appointees spent taxpayer money to benefit candidates, it would be a violation of the Hatch Act.
During the briefings at Treasury and Commerce, then-Bush administration political director Ken Mehlman and other White House aides detailed competitive congressional districts, battleground election states and key media markets and outlined GOP strategy for getting out the vote.

Commerce and Treasury political appointees later made numerous public appearances and grant announcements that often correlated with GOP interests, according to a review of the events by McClatchy Newspapers. The pattern raises the possibility that the events were arranged with the White House's political guidance in mind.
I like the next part:
One congressional aide, who asked to remain anonymous, said the investigation was revealing "a number of remarkable coincidences" similar to how Treasury and Commerce events appeared to coincide with the strategy in the political briefings. However, it remains to be seen whether the subsequent department actions were intentional, said the aide, who asked not to be named because the investigation is ongoing.
Remarkable, yes. This is a remarkable administration. I assume the White House will stand by the "coincidence" story. And I assume one would need some documentation that proves intent. Further, I assume most of such documentation has already been shredded.
I also assume that, even as I keyboard, all manner of operatives and sympathizers are going through Clinton Administration records to find similar "coincidences" to prepare their usual fallback defense — Clinton did it, too. However, a former Clinton Administration Treasury official is quoted as saying nothing remotely like that happened in the Clinton years. "I never experienced anything like that. The notion that the White House would be holding meetings with Treasury appointees just didn't fit."
As part of the probe, committee investigators found that White House drug czar John Walters took 20 trips at taxpayers' expense in 2006 to appear with Republican congressional candidates.
Remarkable coincidences, huh?
In a separate investigation, the independent Office of Special Counsel concluded that GSA Administrator Lurita Alexis Doan violated the Hatch Act, which limits the political activities of government employees. Witnesses told investigators that Doan asked at the end of one political briefing in January 2007 what her agency could do to help GOP candidates. Doan has said she doesn't recall that remark.

Violations of the Hatch Act are treated as administrative, not criminal, matters, and punishment for violations ranges from suspension to termination. The administration has not taken any action against Doan.
And, of course, it won't, because as long as the administration doesn't punish anyone they can pretend it never happened. Democrats in Congress are just witch hunting.
In the months leading up to the 2002 election, then-Commerce Secretary Don Evans, Bush's former campaign finance chairman, made eight appearances or announcements with Republican incumbents in districts deemed by White House aides either as competitive districts or battleground presidential states.

During the stops, he doled out millions of dollars in grants, including in two public announcements with Rep. Heather Wilson, a New Mexico Republican in a competitive district.
That Heather Wilson is a busy girl.
Taylor and Hall describes several more remarkable coincidences involving Treasury officials, then say,
Bush's first treasury secretary, Paul O'Neill, stuck mainly to giving speeches praising President Bush's economic policies rather than appearing with candidates. O'Neill was unceremoniously dumped after disagreeing repeatedly with the White House.
Was O'Neill asked to take part in some coincidences before he was dumped?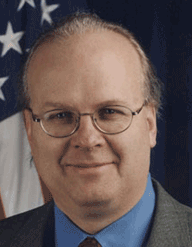 The briefings are part of the legacy of White House political adviser Karl Rove, who announced this week that he's stepping down at the end of the month to spend more time with his family.
Digby speculates that the Hatch Act investigations might have been the real reason Rove decided to spend more time with his family. She reminds us that fired U.S. Attorney David Iglesias, who filed a Hatch Act complaint against Rove, said —
I believe if OSC digs in, they can get direct evidence. …

… [T]he Justice Department papers everything. I mean, the most minute issue has an incredible researched and memoed product. There has to be a paper trail. I haven't seen it yet. If it's not at the Justice Department, it has got to be at the White House.
The White House will, of course, claim executive privilege. But that takes us into a whole new rant, so I believe I will stop here.